Future Indicative careers management software
How to install from the download (in easy steps!)
These notes refer to the download of the latest version of the software. Other downloads (e.g. the manual) are done in a similar manner.
1. Exit from the package if it is currently running.
2. Click on the 'Download' button. A dialogue will ask you if you wish to 'Open' or 'Save' the file.
Select the 'Save' option and save it to your desktop.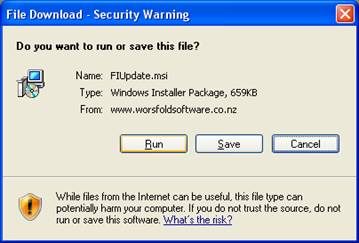 Click 'Save' to download the update to your computer….and a window such as that shown below will appear, asking where you wish to store the download.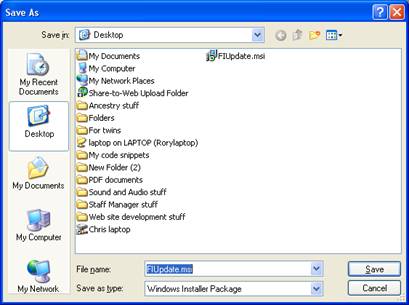 It is usual to save the download to your desktop, so click 'Desktop' on the left hand side of the window, then click 'Save'. As a result, the download file will arrive on your desktop….

The download will consist of the file : FIUpdate.msi

That's the first part of the process.

Installation

To get the new version of the program (and perhaps a new version of FIStudent and even a file of new web site links) double-click on the downloaded file, and the installation dialogue will appear as shown below.

Well, it is quite likely that you will see this screen first….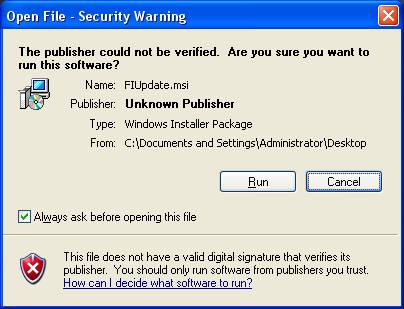 If so then
Untick the 'Always ask before opening the file box
Click 'Run'
Now the installation will get under way.

The screen below indicates that the process has found the package on your computer and allows you to 'Repair' it by installing the latest version.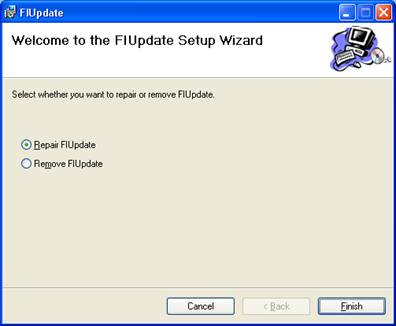 Click 'Finish' to complete the installation process. A progress bar will appear, but very quickly you should arrive at the final screen :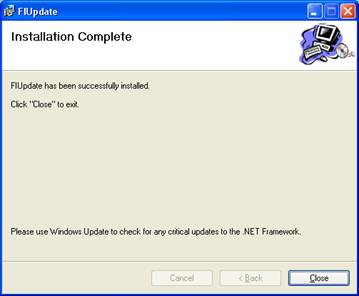 Click 'Close' and you are ready to begin using the new version.
Remember that the download will not touch your database. It is only the program (and the latest standards file) which will be updated by the download process. Once you've finished the process you can delete the downloaded zip file from your desktop.
Copyright 2008 (C) Worsfold Software Ltd